Worlds Best Gadget Jacket
Bring All Your Gadgets With You Everyday
A smart design that brings unmatched function  to great form
Whether you're traveling across the world or across town, chances are you're carrying a ton of electronics. There's the go-with- you-everywhere cell phone, an iPad for client presentations (and, let's be honest, Angry Birds games), a Kindle for reading (nothing beats that E Ink!) and maybe a GoPro for capturing video.
Then there are the cords, chargers and accessories that go along with each device and, oh yeah, you still have to find room for your keys and wallet. We originally designed the Joey Jacket for travelers. But after we started using it at home, we saw how helpful it could be for techies too.
The Joey Jacket doubles as an easy way to carry everything you need for your high tech life and still look great in the process.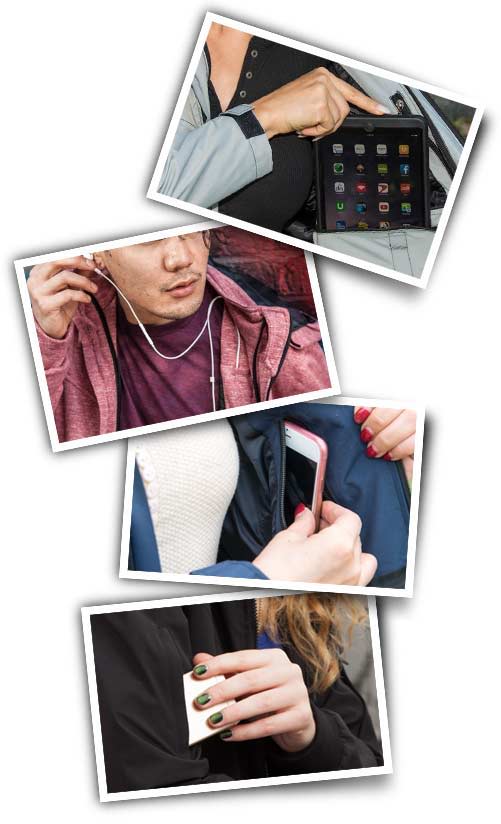 The Perfect Jacket For Gadget Lovers
You'll love the Joey Jacket's features, including:
• 14 pockets to carry everything you need.
• All our pockets fully enclose. This is a BIG deal. Open-top pockets are a disaster waiting to happen; as soon as you bend over your gadgets will spill out. Plus, the extra protection ensures you won't have to worry if you and your gear get caught in the rain or snow.
• Cable loops and access slots. Stay organized and prevent your cables from turning into a tangled nest. The cable access slot also doubles as a place to put your pen, for when you're feeling old school.
• Earphone holder. Answer calls quickly, without having to dig around for your headset.
• The large pockets have a configurable divider. Keep your tablet and keys in separate sections to prevent screen scratches.
• Small sleeve pockets. Perfect for carrying metro cards, cash and your ID without having to dig through your laptop bag or purse. Plus, if your public transportation cards are RFID, you can scan them from inside the jacket's pocket.
• Water bottle straps. Stay hydrated while protecting your high tech gadgets.
• Underarm zipper vents. The jacket is windproof and water resistant, yet totally breathable. Removable sleeves and hood ensure you're ready for anything.
• Built in microfiber cloth. Keep your screens and lenses dust free.
• Cuffs with thumb holes. Stay warm while you text and type.
• Built in eye mask. Take a break from screen time and catch a few ZZZs wherever you are.
• Machine washable. Our jackets are ready for real life.
Plus, the jacket's unique design allows you to spread the weight of all your gadgets and gear evenly around your body. No more cramped backs or sore shoulders. Ready to ditch the laptop bag?
It's my EDC jacket for work and play. I've taken it on the subway packed with my kindle, iPhone and goodies for a journey in the Washington DC area. I've packed my mini hiking kit and taken it out and about in state parks with family. With Fall finally hitting the city, it's perfect as a wind breaker and keeps me cozy in the shade of tall buildings. I don't know how I traveled without one and I'm glad I have it moving forward.