Ditch the Diaper Bag
Leave The Diaper Bag At Home And Bring All Your Stuff With You
A smart design that brings unmatched function  to great form
What if you could ditch the diaper bag for a stylish and functional jacket that allows you to keep track of everything you need for yourself and your children?
We originally designed the Joey Jacket for travelers. But after we had children, we saw how helpful it could be for parents too.
The Joey Jacket doubles as an easy way to carry everything from diapers to toys, snacks to cell phones, and still look great in the process. Rather than hauling around a bulky and expensive diaper bag, our sleek jacket will keep you organized and in control, whether you and the kids are running errands or traveling around the globe.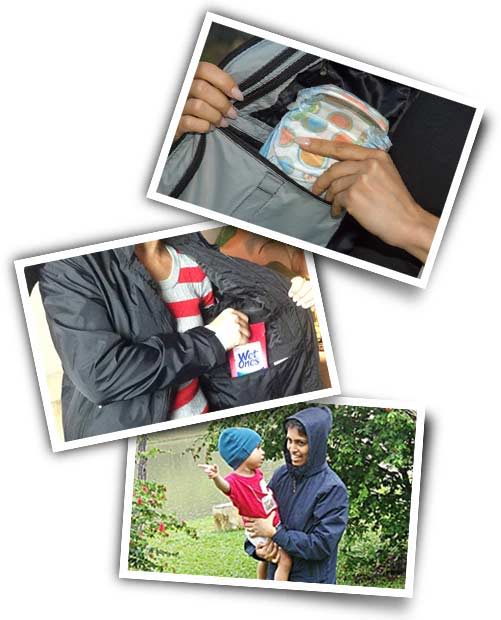 The Perfect Jacket For Parents
Parents will love the Joey Jacket's features, including:
• 14 fully enclosed pockets. Wet wipes, diapers, toys, tissues, more diapers: kids require a lot of supplies. Our pockets allow you to carry everything you need. Plus, since they're fully enclosed, you'll never have to worry about spills or overflows.
• Two large internal configurable pockets. Customizable dividers allow you to keep your diaper rash cream separate from your cell phone.
• Small sleeve pockets. Perfect for carrying metro cards, cash and your ID without having to haul around an additional purse or day bag. If your public transportation cards are RFID, you can scan them from inside the jacket's pockets.
• Water bottle straps. Keep your child's juice on hand at all times, without worrying about spills.
• Underarm zipper vents. The jacket is windproof and water resistant, yet breathable. Removable sleeves and hood ensure you're ready for any weather. They also allow you to stay cool during tantrums and meltdowns.
• Machine washable. Kids are messy. Our jacket is ready for real life.
• Sunglass and pen slots. Don't waste time digging through that diaper bag for everyday items. Our jacket ensures you're ready for anything.
• Built in eye mask. Parents never get enough sleep. The jacket's built in eye mask lets you catch a few precious ZZZs while you're on the bus or waiting in the preschool pick up line.
Plus, the jacket's unique design allows you to distribute the weight of all your parenting supplies evenly around your body. No more cramped backs or sore shoulders. And after the kids have grown, you still have an amazing jacket in your closet.
---
I have been able to stuff a 10″ tablet in the inside pocket along with a travel fishing game, 2 mini Tsum Tsum plushies, a couple of Hot-wheels, a Thomas the train, 3 pull-ups, travel wipes, a folding step stool, hand sanitizer, a sippy cup, 3 external chargers, my earphones, my phone (S7), a couple of snacks, and still have one free pocket for the boarding pass. – C. Torrente